Why Use Local Tradesmen For Home Renovations?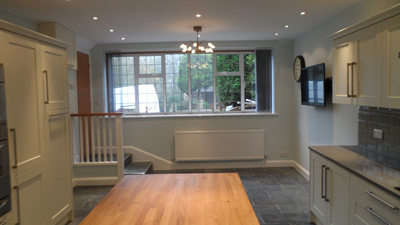 In this day and age, none of us are feeling rich, and do-it-yourself is becoming more and more popular. Many people feel that renovations will be cheaper if they take on the bulk of the work without professional help. And when you cost up a job without the labour charge, it often looks like a bargain.
But professional tradespeople are often called in to fix DIY jobs that went awry, and that's when DIY gets expensive. Most householders can cope with the basics, but renovation is another matter entirely, and mistakes can mean the job needs to be re-done from scratch.
Here are some other reasons to select a local tradesperson when it's time to redecorate or renovate your home.
Safety Concerns
The most obvious problem with DIY is that nothing is certified or properly tested. Sure, some jobs don't need to be checked in that much detail, but if you mess around with electrics or plumbing, you could create a serious safety hazard without ever realising. Additionally, you won't have the paperwork to say the job's been done properly. This is particularly important when tackling kitchen refurbishment projects.
The most important advice we can offer is to leave refurbishment to a local tradesperson, particularly where gas or electricity is involved. The consequence could be loss of life.
You may also want to leave pipes well alone, and leave the welding to the experts in case you cause more damage than you fix.
Remember: poor DIY is no joke when lives are put at risk.
Waste Disposal
Many local councils are now incredibly strict about waste disposal, and professionals pay hefty fees to use the proper facilities and recycling sites. During a renovation project, you'll generate a lot of mess and rubble, and the cost of transporting and disposing of it could make your eyes water. Rubble disposal is sometimes priced by weight, so cost quickly adds up.
Remember, too, that many older properties were built using materials you really shouldn't mess with. The best example is asbestos: fine when left alone, but as soon as it's disturbed, it's a health hazard. Asbestos can be found in insulating materials and some Artex applied before the 1990s. Don't attempt to remove asbestos without professional help. Before attempting any major decoration or refurbishment jobs always get an expert in to make sure nothing can go wrong.
Poor Advice
These days, it's tempting to rely on Google for practically everything we need to know. Beware of following online guides when refurbishing your home. Many of them assume a basic level of DIY knowledge or a background in home improvement, and a great deal are light on essential details. Some guides are intended for an audience in a different country, where regulations, laws and available products can vary from ours in the UK.
If you need a job done quickly, telephone a professional tradesperson and ask what they'd charge for an emergency visit. It'll be a lot less than the fee for putting a bad job right.
Hiring a Tradesperson
Look online for a reputable firm to assist with your renovation project. Ideally, the tradesperson you choose should be able to prove their experience with photos or testimonials, and they may visit to give you a quote without charge.
HC Refurbishments assist with renovation projects in the Surrey and south London areas. To get a competitive quote, get in touch today.
06 October 2013