Redecorating for a Happy Home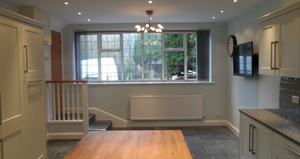 When a home is in disarray, it can significantly impact the quality of life for its occupants. At HC Refurbishments, we know that investing in a few home improvements can drastically improve the wellbeing of any family. So, that's why today, we're offering a few handy hints and tips on redecorating for a happy home.
Decorating
If your walls and ceilings are faded, scuffed or dirty, it can radically affect the way you feel about your living space. By hiring a company to come in and redecorate, you'll give your home a new lease of life. HC Refurbishments, for example, can be appointed to help with painting, stripping, varnishing, staining, glossing, coving, and much, much more. So whatever your home's visual flaws, investing in a bit of TLC can certainly make all the difference.
Kitchens
As a busy hub in most homes, it's necessary for kitchens to be functional, attractive and welcoming. To ensure your family is kept happy, it's vital that your kitchen meets high standards for convenient food preparation, and enjoyable socialising. So, if your kitchen has seen better days, consider an upgrade with a reputable home improvements company. At HC Refurbishments, we offer a wide range of kitchen fitting services in Surrey, including carpentry, tiling, and appliance installation.
Bathrooms
There's no denying that when you look good, you feel good. That's why it pays to invest in high quality home bathrooms and here at HC Refurbishments we speclialise in bathroom fiiting and bathrom refurbishments all over Surrey. The simplest touches can make all the difference. From improved lighting, or a higher pressure shower, to a newly installed heated towel rack, your whole family will feel better in their new and improved bathroom.
Invest in your family's happiness today!
For improved harmony in your home, as well as increased property net worth and attractive interiors, get in touch with a reputable Surrey-based refurbishment company as soon as possible. HC Refurbishments is conveniently located in South London, and provides a convenient port of call for all your home requirements. Call for your free quote on 0800 019 1277 today.
13 May 2013