4 Reasons to Refurbish Your Bathroom ASAP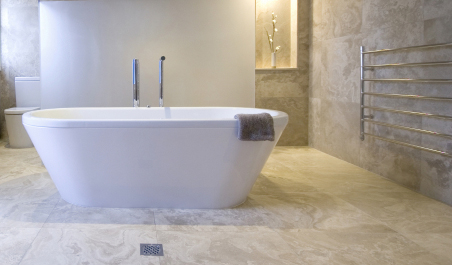 Is your bathroom in dire need of an update? Many homeowners know that their bathroom's in need of work, yet they postpone the job to avoid the disruption and hassle that comes with home improvements.
But a new bathroom can make a huge difference to the enjoyment you get from your home, and that means it's always worth putting up with a few days' inconvenience and calling in the experts.
Let's look at four good reasons to get on with your bathroom refurb project sooner rather than later.
1. Replacing the Ageing Bathroom Suite
We've all heard the jokes about avocado bathroom suites, but if you're unlucky enough to buy a house with a pasty green bathroom, it may not be a laughing matter.
Vintage bathroom suites have a certain kitsch charm about them, but they can also be chunky, inefficient and downright dangerous. Bite the bullet: rip out that dated bathroom suite and plan a new one to take its place. It'll please you and make your house more attractive to a buyer if you ever want to sell your home.
2. Improving Energy Efficiency
We all want our bathroom to be warm and toasty in winter, and improving energy efficiency could help you achieve a comfortable temperature for less. We can help you to keep your bathroom warm while it's in use without heating it unnecessarily while you're not at home. A shower or tap upgrade could improve pressure while cutting down on water use, and if you don't use your bath, we can help you to remove it or fit a smaller tub that's ideal for the kids.
In addition, we can help with those quick fixes that make a big difference. While we're refurbishing bathrooms, we always aim to insulate the pipes at the same time; it's an inexpensive task that could make a marked difference to your monthly bill.
3. Installing New Lights
In a bathroom, a single ceiling light isn't always the best way to illuminate the space. You'll need expert help to replace your bathroom lighting with something more suitable. We can help you to plan a new lighting system that highlights key parts of the room and illuminates the areas where you need good lighting, such as around your mirror and over the shower.
LED lights are a great choice for the bathroom. Not only are they energy efficient, but the bulbs rarely fail, so you won't need to teeter on top of a stepladder to change them once they've been fitted. With LEDs, you can get rid of the single light and fit attractive down lights instead.
4. Creating More Storage Space
Large bathrooms are brimming with space for cosmetics, towels and those essential cleaning products, but in a smaller bathroom, getting everything you need into the cupboards can be a challenge. However, even the tiniest bathroom could yield more storage space with the right planning; you might be surprised at how many tricks we have up our sleeve.
We can create storage space inside your bath using clever hidden panels, or install storage above head height to make use of high ceilings. Modern wall-mounted sinks give the illusion of more floor space while offering plenty of storage for your knickknacks.
Planning Your Bathroom Refurbishment Project
Planning a bathroom refurbishment project is a daunting task, but you don't need to go it alone. At HC Refurbishments, bathroom and kitchen refurbishment is our speciality. If you live in Surrey or south London and you're thinking of improving your bathroom, give us a call for a friendly, no-obligation chat.
06 October 2013