How to Brighten Up a Gloomy Room

A dark, uninviting room is a waste of space in the home. Rooms that look poky and dim can be off putting and will almost always discourage your family and visitors from using them. This problem can be easily fixed, and transforming dark and gloomy room into an attractive, bright and uplifting space need not be expensive.
Getting Started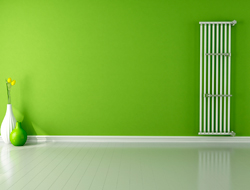 White or light coloured ceilings are great for brightening up a room. To get the best out of a light ceiling, you should mount wall lights which throw light up to the ceiling to illuminate it. If you have high cupboards, consider installing as many uplighters as you can manage on top of the cupboards. The combination of a brightly lit ceiling with a white surface will have an instant impact on a gloomy room.
Bright or white furniture will help to lift the gloom too. Furniture is often the centrepiece to a room and will draw the eye. Again, if you accentuate the bright furniture with some well placed free standing light fixtures, this will enhance the overall impact.
Another classic way to get more natural light into a gloomy room is by using mirrors. Well placed wall mounted mirrors will have the effect of reflecting any natural light from the windows around the room. They will also help to push the walls back, making the space seem more airy. The larger the mirror, the better the effect will be.
If you have a dark room with no natural light, try using recessed ceiling lights. These are a good way of dispersing light throughout the room rather than having a single source from a chandelier or central hanging light. Several well placed plants will also help to compensate for the lack of natural light.
Permanent Changes to the Room
When it comes to decorating dark, small spaces, it is a good idea to choose highly contrasting colours. For example, if you have white walls, try mounting pictures in black frames and using some black furniture. Colours which are low contrast will easily blend into each other in a gloomy room, but high contrasting colours will help to fight the gloom and define the space clearly.
Sometimes, embracing the dark room is easier than trying to fight against it. Darker coloured walls with bright features can be a good way of adding warmth to a room and turning it into a cosy snug. You may not achieve the brightness you want, but the room will certainly feel more welcoming.
If you are planning to paint a naturally dark room, choose colours with a high light reflective values. Most paints are marked with LRV numbers; if you're not sure where to look, ask store staff to help you.
Finally, if you aren't afraid of knocking down walls, you can try to open the space up. Some walls can create dark corners in a room; if they are not necessary, get rid of the walls (remember to factor in additional costs if the wall is supporting the upstairs rooms). You can also consider fitting larger windows, patio doors or bifolds to help bring more natural light into the room. It may also be possible to bring natural light in through a skylight or use glass doors to take advantage of a lighter room next door.
Tackle Your Gloomy Corners
Gloomy rooms don't have to end up being the forgotten and unused space in your house. With some TLC and careful planning, they can become the welcoming space you desire. Call HC Refurbishments for help transforming your home and making the most of every single room. We provide complete home refurbishments and decorating services in Surrey and London.
01 March 2014